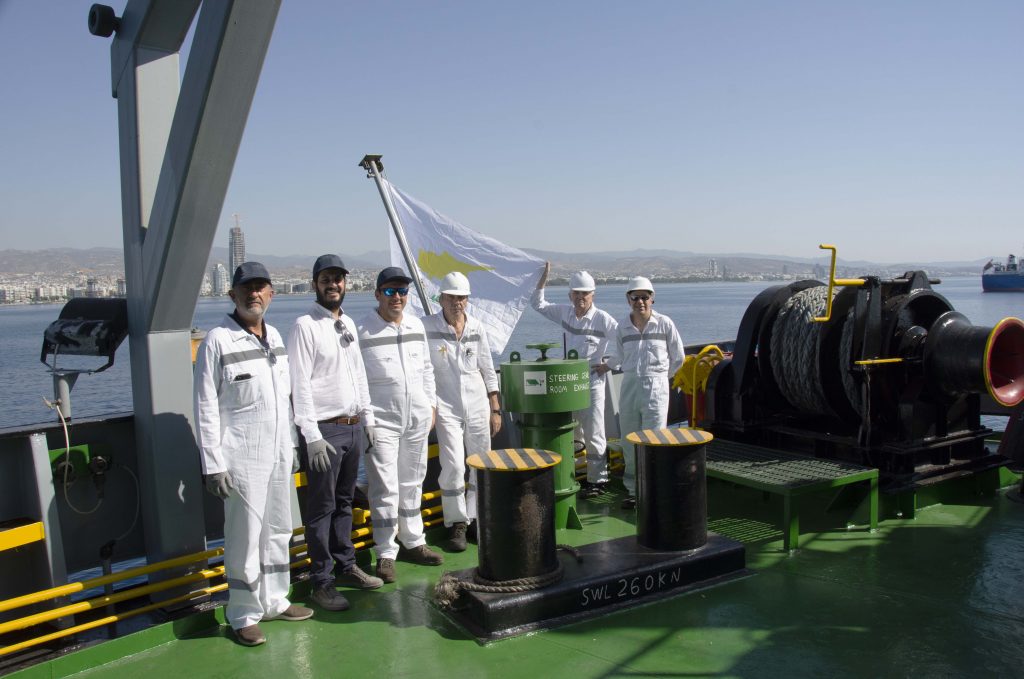 From left to right: Zacharias Siokouros – CEO of CMMI, Angelos Ktoris – Secretary of CMMI, Marios Drousiotis – Technical Manager of PSL, Aleksandr Sverkunov – Chief Engineer of M/T Alexandria, Captain Yuriy Kiselev – Master of M/T Alexandria, Demetris Charalambous – General Manager of PSL
Press Release
11 September 2020
Petronav Ship Management (PSL) and the Cyprus Marine and Maritime Institute (CMMI) signed today a Memorandum of Understanding (MoU) that will enable the two organisations to collaborate and build strong bonds for the future. Beyond strengthening the already excellent relationship between the organisations, the MoU will allow the exchange of ideas, resources and facilities, especially in the fields of ship management, marine bunkering, anti-pollution as well as research and development taking into consideration the constant presence of PSL ships in the port of Limassol.
The signing ceremony took place on board the M/T Alexandria, an Oil Tanker vessel managed by PSL which carries anti-pollution equipment and is among the fleet of vessels recruited by the European Maritime Safety Agency (EMSA) to respond quickly, effectively and efficiently to oil or chemical marine pollution incidents from ships and oil and gas installations. M/T Alexandria strengthens EMSA's oil-spill response coverage of the Eastern Mediterranean Sea, a sensitive sea area given its proximity to major oil transport routes transiting the Suez Canal, and those originating in Black Sea and Middle Eastern ports.
During the signing of the MoU, the General Manager of PSL, Demetris Charalambous, stated: "It is with great pleasure that we are signing this MoU. We have been following the CMMI since its inception and feel proud to be able to assist this endeavour for excellence. Innovation is a key driver in the maritime industry, especially as we attempt to reach sustainability through "green growth". This is, among many others, one of the significant challenges we face, and we are committed to put forth the effort and resources needed to assist the CMMI in its research."
The CEO of CMMI, Zacharias Siokouros expressed his satisfaction for the signing of the MoU with PSL. "I know the company, its people and their capabilities. I also know PSL's fleet very well and I am confident that there are a lot of opportunities for cooperation". He further stressed that "CMMI remains committed to its aim to become a partner of choice for all relevant blue economy research and innovation activities at the local, regional, European, and global levels".
About Petronav Ship Management Limited (PSL)
Petronav Ship Management Limited (PSL), established in 1998, offers comprehensive ship management services. It is part of Island Oil Holdings, a group of companies mainly focused on the supply of bunker fuel to vessels. Today, PSL manages 10 vessels and employs over 200 seafarers. The Island Oil Holdings Group employs an additional 130 onshore staff members in Limassol, Piraeus, Singapore, Haifa, Constanta, and Odessa.
About the Cyprus Marine and Maritime Institute (CMMI)
CMMI, is an independent, international, scientific and business Centre of Excellence for Marine and Maritime Research and Innovation that aims to be driven by the needs of the industry and society in addressing the major challenges that the respective sectors face. CMMI, was established in 2019 following its selection for funding under the EU's HORIZON 2020 Programme, Spreading Excellence and Widening Participation Call, after a three-year highly competitive evaluation process among approximately 200 proposals at EU level. It was awarded €30 million funding from the EU Commission and the Cyprus Government while more than €25 million are to be provided by partners and industry and academia stakeholders mainly as in-kind contributions.